Pinnacle Sports is a unique bookmaker which doesn't limit rate maximum and has the highest odds.
About Pinnacle Sports
If you like sports betting and want to place them in a safe sportsbook, then you definitely need to pay attention to the Pinnacle Sports. Many players have realized that the bookmaker Pinnacle can be trusted. This is one of the few companies that does not cut the maximum and makes a return rate of an error in its lines. You can find only best reviews about this company on the Internet. It is no wonder that this bookie has got fans in 100 countries around the world!
Odds in Pinnacle Sports are some of the best in the network, due to the low margins, because in fact it is a mixture of traditional bookmaker with the exchange rate. Many betting services and even Betfair largely form their lines based on the Odds of Pinnacle.
The company Pinnacle Sport has been engaged in betting sports betting since 1998. Site is translated into 18 languages. There is online casino besides betting on the site.
Pinnacle Sports – Bonus
There is no traditional bonus on your first deposit on Pinnacle Sport. Instead, this bookmaker offers the best odds guaranteed on the market of sports betting! And this is true, you can check by going to any service monitoring betting lines. All other bookmakers are guided by the moneyline of Pinnacle. In general, the Odds of the Pinnacle Sports are approximately equal to Betfair. But Betfair has 5 percent commission, and there are no hidden charges – you are guaranteed to receive your winnings in full.
Pinnacle Sports – Deposit and Withdrawal
There are all available methods of depositing and withdrawing on Pinnacle Sports.
To make a deposit log in, click on "Deposit/Payments" and select the payment metod. You can withdraw funds from Pinnacle once a month without commission – there will be charged additional fees for the second and subsequent withdrawal within one month. This is done in order to prevent fraud with the "overflow" of funds between payment systems.
The minimum deposit amount is $ 10 (for credit cards – $ 25) Minimum withdrawal amount is $ 15.
Pinnacle Sports – Bets
After registering and making your first deposit, you can begin making bets. Pinnacle Sports has a wide selection (not humongous, yet sufficient), so bidding on all kinds of sport events is available. Maximum and minimum amounts of bets differ according to the sports and bets type selected. Multiple bets have a maximum cap of $1000. However, there are LIVE bets, starting as low as $1 in Pinnacle.
Pinnacle interface may seem a bit unusual (yet it is usual for USA bookies) and other customers get used to it in a couple of minutes. Quite contrary, Pinnacle interface may be one of your serious advantages, especially with LIVE bets. You may also use so-called "Asian Interface", resulting in bidding window being displayed as in Asia (if you wish).
Please open the Pinnacle main page and select the needed league (cup) or all bets available for betting today (Matches Today). I selected this option: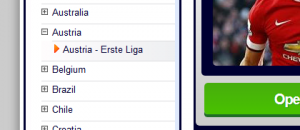 Moneyline are updated each 30 seconds, meaning odds for certain results may change, which should be taken into consideration. If odds change during bet placement, a window will pop up with an offer to change the current odds.
You can switch visual automatic update of the odds manually (Auto-Refresh: Off). Odds will still change, yet you will not see it. In this case, updated odds will be displayed in different colours after page update:
• Red: odds changed during last update
• Orange: odds changed more than 30 seconds ago
• Blue: odds changed more than a minute ago
To find out maximum bet sum for each result, just point your mouse cursor over the bet sum cell.
Games marked with green blinking circle icon are now LIVE and odds change very fast:
1. "Game/Match" – date of game and market name. Time is local for sportsbook you work with, yet finding the difference with your local time is simple – just find the game in the TV schedule and calculate the time gap.
2. "Handicap" – ("First half handicap", etc.) – handicap is named a bit differently, yet the sense remains the same – team should win with handicap value.
If handicap is Positive – this team is match's outsider, if it is Negative – team is a favourite. Zero handicaps means teams are nearly equal. However, you should always estimate the game yourself, not only following bookmakers' opinion – there always is a chance to win big by placing right odds on underestimated result. You should also keep in mind that handicap bet may return half of the sum. Let's take a closer look:
• pk. This stands for zero handicap with Pinnacle sports.
• pk. and +0.5 , etc. This stands for double handicap, when your bet is divided in halves, with 50% placed with zero handicap and the second half with +0.5 handicap. This results in chance of double win (or loss), or getting one half of the bet back. As you see, this is much safer, yet odds are less, of course.
For example, a game of Juventus vs, Fiorentina ended with 1-1 score. We placed our bets at Fiorentina (pk + 0.5) and bet $10. This way we win the second half of the bid, as resulting score will be 1-1.5 (so that we get $5×1.5). Meanwhile we will have a refund on the first half, as teams scored equal and we had zero handicap on the match. We will have our $5 back.
3. "Money line" – bets on scores we are used to (Victory of First or Second team or Equal)
4. "Total". These bets are for total results (More or Less goals, points, etc.) General rules are like with Handicap (without Equal score). Total is placed on general amount of goals scored by both teams, unless it is an Individual Total. Total also offers Win, Win of Half bet or Refund.
For example, we placed our bets on game Juventus vs. Fiorentina, which ended with 1-1 score. We bet on "Total between 2 and 2.5 goals". In this case, first half of our bet gets a refund of $5, as there were 2 goals scored. The second half of our bet wins, because there were less than 2.5 goals.
5. "Asian handicap". This handicap is usually given on LIVE matches or National team games. Rules differ greatly from standards of Handicap system. LIVE football matches have much more odds (corners bets, cards betting, game halves results, etc.)
Pinnacle Sports – Finance
| Transfer method | Deposit | Withdrawal | Min. amount (D/W) |
| --- | --- | --- | --- |
| Bank wire transfer | | | £10/£15 |
| Visa | | | £25 |
| Mastercard | | | £25 |
| ClickandBuy | | | £15/£10 |
| Skrill | | | £10/£10 |
| Neteller | | | £10/£10 |
| entropay | | | £25/£20 |
| Webmoney | | | £10/£15 |
| IDebit | | | £50/£50 |
| Instadebit | | | £10/£12 |
| Moneta | | | £10 |
| QIWI | | | £25/£25 |
Pinnacle Sports – Support
| Type | Contact |
| --- | --- |
| Email | csd@pinnaclesports.com |
| Contact Form | on site |
Pinnacle Sports – Other information
| Type | Information |
| --- | --- |
| Restricted Countries | United States, United Kingdom, France, Spain, Netherlands, Turkey. |
| Site Languages | English (Int;NA), Deutch, Spanish, Russian, Polish, Portuguese, Italiano, Indonesian, Hebrew, Chinese, Thai, Norwegian, Japanese, Korean, Swedish … |
| Sports | American Football, Soccer, MMA, Hockey, Golf, Baseball, Tennis, E-Sports, Rugby, AFL, Politics, Winter Sports, Cricket, Entertainment, Boxing, Handball, Voleyball, Snooker, Miscellaneous. |
| Pinnacle Sports min. bet amount | varies |
| Pinnacle Sports products | Sportsbetting, Casino, Esports, Mobile |